Fake Smurf 16610 Blue Rolex Submariner $3,200 Buy It Now...
Topic Author

Junior Member
8 months 2 weeks ago
#555
by Rolex-Police
Look in the description of this watch... the case and bracelet are "custom made" out of stainless steel. Real Smurfs are 18k white gold.
The dial and bezel are stated to be after market. This means that the Rolex logo was unlawfully printed on the dial. The logo was unlawfully stamped onto the winding crown and on the buckle and clasp. The movement is a legitimate 3135 movment -- not a Yuki or Angus. If you look at the balance, you can tell this is free sprung, so it is legitimate.
But even with a legitimate movement, the rest of the watch is not Rolex and the Rolex name and logo was used on several parts of the watch. This watch was built to deceive.
Whoever buys this watch or the guy after him is likely going to end up trying to sell the watch for a big premium as a genuine Rolex watch. This dilutes the market place and reduces consumer confidence. This watch needs to be removed.
REPORTED
Here is the link:
rover.ebay.com/rover/1/711-53200-19255-0/1?icep_id=114&ipn=icep&toolid=20004&campid=5337924197&mpre=http%3A%2F%2Fwww.ebay.com%2Fitm%2FGents-Rolex-Submariner-16610-Stainless-Steel-Caliber-3135-%2F322346594876%3Fhash%3Ditem4b0d5ab23c%3Ag%3AX3AAAOSwiDFYQMmD
Here is a photo and additional links: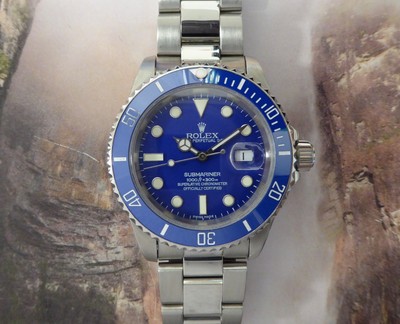 Gents Rolex Submariner 16610 Stainless Steel Caliber 3135
Completed
Please Log in or Create an account to join the conversation.