Classic Car Toy Set Models Collection Cars Replicas Party Food Boxes Centerpiece ListingDetailsPaymentThe MoneyShipping & HandlingThe Where and WhenReturns & ExchangesSomething go wrong?StoreMore!ContactTalk to Us Classic Car Toy Set Models Collection Cars Replicas Party Food Boxes Centerpiece Domestic Shipping is FREE and usually, takes 2-3 businesses days! There is NO SALES TAX, the price you see is the price you pay! The Product is located and shipped from within the US! Product Details Cardboard replica of 50's and 60's classic cars make a great addition to your party or event. These can be used as center pieces, to hold candy, or to serve meals. We include a black and white checkered wax liner for every car at no additional cost. This assortment includes: 1 ea. - 1955 Chevy Bel Air 1 ea. - 1956 Chevy Bel Air 1 ea. - 1957 Chevy Bel Air 1 ea. - 1958 Chevy Impala 1 ea. - 1954 Chevy Corvette 1 ea. - 1958 Chevy Corvette 1 ea. - 1955 Chevy Hot Rod 1 ea. - 1956 Chevy Hot Rod 1 ea. - 1957 Chevy Hot Rod 1 ea. - 1958 Buick Century 1 ea. - 1955 Buick Roadmaster 1 ea. - 1958 Pontiac Bonneville 12 ea. - Free Waxed Paper Food Liners Each car is very easy to assemble, made of lightweight poster board, they come in one piece and just require folding and there are instructions on the back of each car. They make great centerpieces, decorations, or food baskets. Fill them with candy treats or a Burger and Fries. Fun for kids (and adults) of all ages. Some of our customers have told us they make great wall decorations for a kid's room, office or man cave. Just assemble them and hang them on the wall with a push pin.. All of the cars are convertibles so you can also use them for a container for anything you imagine. Each car measures approximately 12.5" long x 4" high and 5" wide (including the windshield), but each car varies in size slightly. The opening in each of the cars are 4" x 4" to allow the option for food, candy or whatever you creatively think to put inside. The food nor candy in pictures are included. When you are done, you can use the cars for door prizes, party favors etc. We also include a FREE waxed black and white checked paper food liner for every car in the set. All sets are shipped in a food-grade poly bag. Payment We accept Paypal. We Don't Charge Sales Tax! Shipping & HandlingDomestic Shipping within continental US usually takes 2-3 days! For International Shipping please refer to Shipping & Payments tab above,the buyer is responsible for any applicable import duties. ReturnsWe offer 30 days free domestic returns! International buyer responisble for returns shipping costs. Classic Car Toy Set Models Collection Cars Replicas Party Food Boxes Centerpiece Product Features The ultimate GM Classic Collection in a 12 Car SetCardboard Replica of 50's & 60's Classic Cars Make Great Addition to Party or EventFree Waxed Paper Food Liners Included in Every Set for Every Car (Food/Candy is not included)Can be used as Food Container, Candy holder, Centerpiece, Party FavorsEasy to Assemble, They Come in One Piece with Easy Instructions on the back of each Car Why Choose Home--Essentials? 30 Days Free Returns! We offer 30 days free domestic returns! Fast & Free US Shipping! Shipping within the continental US is FAST & FREE! Commitment! We are committed to making sure that you leave this transaction satisfied. Please feel free to contact us! Thank you for visiting Home--Essentials! See you next time!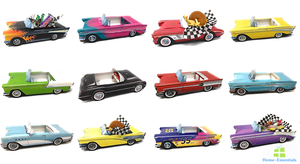 Click Here to View and Report this item
fakewatchbusta recommends never buying anything from a seller who is caught selling Items Bearing Counterfeit Trademarks. Who knows what other Counterfeit items they are selling...
eBay takes a proactive approach to protecting its members when it is notified that an Item Bearing a Counterfeit Trademark has been listed on eBay. This article is for educational purposes. fakewatchbusta has taken the lead in educating the public about the Illegality of trafficking in watches Bearing Counterfeit Trademarks while simultaneously exposing the Criminals who are selling these Illegal watches... with the hope of benefiting the legitimate watch industry, disrupting the illegal counterfeit watch industry, and protecting consumers.
Register on fakewatchbusta.com to report a suspected fake watch. If you feel that an item has been listed by mistake, text or whatsapp 720.899.2554, and we will look into it further.
This watch is Illegal. Trademark Counterfeiting is a serious Crime in most States; a Federal Felony; a serious Crime in most other Countries; and a Violation of the Lanham Act. Report this item on eBay. Report this Counterfeit Watch to local Police, the FBI, IP Attorneys, and to report the watch to the brand that is being Victimized by this Trademark Counterfeiting. Be sure to notify the seller via eBay messaging that you have reported the item and that the item is the subject of an article on fakewatchbusta.com and that we are discussing it in the fakewatchbusta.com forum. Notification that the item is Counterfeit and that it is posted on fakewatchbusta.com is oftentimes enough motivation for a seller to end a listing -- thus protecting the watch industry and potential Victims.
Click Here to View and Report this item