Richard Mille RM011-FM REPLICA *GREAT CONDITION*
Up for auction is a REPLICA Richard Mille RM011-FM that I bought in Thailand in June. Just to confirm, it is not a real Richard Mille (which would set you back at least US$80k!) but it looks just like the real thing. That being said, the watch is well made for what it is - it wears well on the wrist and has some good features: Sapphire crystal (or so I was told) and the top button on the right hand of the case advances the date. The automatic movement still working well and keeping good time; I've estimated the Power reserve at about 24 hours. The rubber strap is easily adjusted and deployant buckle still has the stickers on it (see pics). In short, you're getting a pretty good watch for the money. Don't hesitate to ask any questions. Bid with confidence!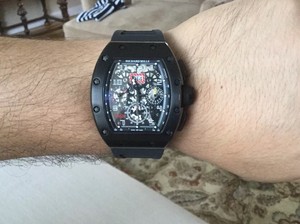 Click Here to View and Report this item
fakewatchbusta recommends never buying anything from a seller who is caught selling Items Bearing Counterfeit Trademarks. Who knows what other Counterfeit items they are selling...
eBay takes a proactive approach to protecting its members when it is notified that an Item Bearing a Counterfeit Trademark has been listed on eBay. This article is for educational purposes. fakewatchbusta has taken the lead in educating the public about the Illegality of trafficking in watches Bearing Counterfeit Trademarks while simultaneously exposing the Criminals who are selling these Illegal watches... with the hope of benefiting the legitimate watch industry, disrupting the illegal counterfeit watch industry, and protecting consumers.
Register on fakewatchbusta.com to report a suspected fake watch. If you feel that an item has been listed by mistake, text or whatsapp 720.899.2554, and we will look into it further.
This watch is Illegal. Trademark Counterfeiting is a serious Crime in most States; a Federal Felony; a serious Crime in most other Countries; and a Violation of the Lanham Act. Report this item on eBay. Report this Counterfeit Watch to local Police, the FBI, IP Attorneys, and to report the watch to the brand that is being Victimized by this Trademark Counterfeiting. Be sure to notify the seller via eBay messaging that you have reported the item and that the item is the subject of an article on fakewatchbusta.com and that we are discussing it in the fakewatchbusta.com forum. Notification that the item is Counterfeit and that it is posted on fakewatchbusta.com is oftentimes enough motivation for a seller to end a listing -- thus protecting the watch industry and potential Victims.
Click Here to View and Report this item