On Sept. 15, 2018 the Wall Street Journal published a short article (see photo) mentioning the new men's fashion trend in wristwatches featuring automobile dashboards "Strap On a Dashboard." The perfect find for vintage auto fans in general and Morris Minor fans in particular, this new quartz wristwatch features a dial that replicates the speedometer on the iconic mini British legend. The bright chrome case measures 1 1/2" across, excluding crown and lugs, and surrounds a multi colored dial featuring an odometer showing 98,755 miles, high beam indicator, ignition and oil lights and, by the way, you need petrol! It is running strong with a reliable quartz movement, has a snap-down back and is matched with a stainless steel bright link bracelet. Limited Quantity, don't miss it! We offer free, first class domestic shipping and ship worldwide Priority Mail to insure safe, swift, and reliable shipping to our international customers for a flat fee of $34.00. (Canada may be slightly less) Please note, we offer our items on multiple sites and will not be removed from other sites until payment has been received and rarely may mean that your selection may be sold out prior to your payment has posted. We are Stonehenge Watch Company and have been selling vintage timepieces and new watches on the internet for over 12 years WITH 100% CUSTOMER SATISFACTION. Seller information stonehengewatchcompany (2421) We do our best to accurately describe items on our site and, if for any reason, you are disappointed in your purchase we will provide a swift and satisfactory resolution to your concern.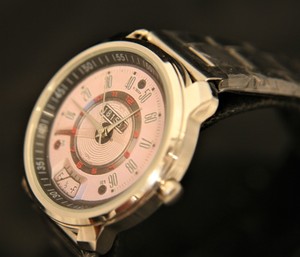 Click Here to View and Report this item
fakewatchbusta recommends never buying anything from a seller who is caught selling Items Bearing Counterfeit Trademarks. Who knows what other Counterfeit items they are selling...
eBay takes a proactive approach to protecting its members when it is notified that an Item Bearing a Counterfeit Trademark has been listed on eBay. This article is for educational purposes. fakewatchbusta has taken the lead in educating the public about the Illegality of trafficking in watches Bearing Counterfeit Trademarks while simultaneously exposing the Criminals who are selling these Illegal watches... with the hope of benefiting the legitimate watch industry, disrupting the illegal counterfeit watch industry, and protecting consumers.
Register on fakewatchbusta.com to report a suspected fake watch. If you feel that an item has been listed by mistake, text or whatsapp 720.899.2554, and we will look into it further.
This watch is Illegal. Trademark Counterfeiting is a serious Crime in most States; a Federal Felony; a serious Crime in most other Countries; and a Violation of the Lanham Act. Report this item on eBay. Report this Counterfeit Watch to local Police, the FBI, IP Attorneys, and to report the watch to the brand that is being Victimized by this Trademark Counterfeiting. Be sure to notify the seller via eBay messaging that you have reported the item and that the item is the subject of an article on fakewatchbusta.com and that we are discussing it in the fakewatchbusta.com forum. Notification that the item is Counterfeit and that it is posted on fakewatchbusta.com is oftentimes enough motivation for a seller to end a listing -- thus protecting the watch industry and potential Victims.
Click Here to View and Report this item