Genuine Rolex crystal, just replaced. cost $175 Genuine Rolex service bezel insert $250+ value in perfect New old stock condition with Luminova pearl which glows Modified WSO replacement aftermarket bi-directional bezel, modified to turn freely as it should. Gen Bezel insert is attached with additional adhesive for the security of the genuine insert. Bezel has appropriate bezel tension spring installed. Aftermarket replacement rolex 1680 gen-spec Vietnam case and case back. These are advertised for $1450 online. Excellent A++ engravings which are engraved, not lasered. Dial: Genuine rolex oem plate, REPRINTED. This was not originally a red submariner dial, but is a genuine rolex oem plate that has been reprinted. Vietnam source. Best printing. Very crisp printing. These are advertised at no less than $450 online for this quality. Dial was later re-lumed with vintage looking plots that do not glow. ETA 2836-2 clone movement, fresh with clean oils, will not need servicing for years. Has preferred hacking features. Keeping time well within spec. Date wheel adjusted properly to show correctly in the viewing window under the cyclops. Athaya aftermarket replacement crown and tube, modified to allow 1.5+ turns of secure threading. My wife just gave me the green light to buy a 100% gen red sub of my birth year so I'm pricing this one to sell quickly! Please only submit reasonable offers. Ridiculous lowball offers such as $999 will be automatically rejected. Please understand what it would cost to duplicate this build, subtract some reasonable discount for a quick sale and submit that. or better yet Buy It Now :-) and snipe it first and make it yours while the others are "thinking about it" All sales final, so please do not bid unless you are able to afford this, etc. It is a beautiful piece and someone is going to get a very good deal.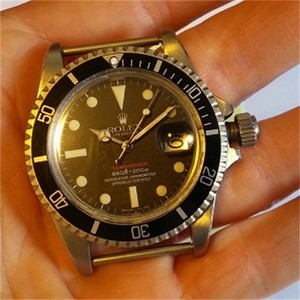 Click Here to View and Report this item
fakewatchbusta recommends never buying anything from a seller who is caught selling Items Bearing Counterfeit Trademarks. Who knows what other Counterfeit items they are selling...
eBay takes a proactive approach to protecting its members when it is notified that an Item Bearing a Counterfeit Trademark has been listed on eBay. This article is for educational purposes. fakewatchbusta has taken the lead in educating the public about the Illegality of trafficking in watches Bearing Counterfeit Trademarks while simultaneously exposing the Criminals who are selling these Illegal watches... with the hope of benefiting the legitimate watch industry, disrupting the illegal counterfeit watch industry, and protecting consumers.
Register on fakewatchbusta.com to report a suspected fake watch. If you feel that an item has been listed by mistake, text or whatsapp 720.899.2554, and we will look into it further.
This watch is Illegal. Trademark Counterfeiting is a serious Crime in most States; a Federal Felony; a serious Crime in most other Countries; and a Violation of the Lanham Act. Report this item on eBay. Report this Counterfeit Watch to local Police, the FBI, IP Attorneys, and to report the watch to the brand that is being Victimized by this Trademark Counterfeiting. Be sure to notify the seller via eBay messaging that you have reported the item and that the item is the subject of an article on fakewatchbusta.com and that we are discussing it in the fakewatchbusta.com forum. Notification that the item is Counterfeit and that it is posted on fakewatchbusta.com is oftentimes enough motivation for a seller to end a listing -- thus protecting the watch industry and potential Victims.
Click Here to View and Report this item