OMEGA Speedmaster 1st Replica Chronograph 3594.50 Hand-winding Men's Watch Product DetailsGenderMen'sMaterialStainless SteelDial colorBlackMovementHand-windingRef Number3594.50Serial Number77004***FunctionsChronographAccessoriesInternational WarrantyCase sizeAbout 42 mm (1.65 inch) (not including the crown)Wrist size16.5 cm(6.50 inch)Lugs width-WeightAbout 129.8 gMaintenanceUnknownFrequency21600Keeping time+14 secGuarantee informationBlankGuarantee dateBlankState of the woundGlassfew scratchCasefew scratchBezelfew scratchBelt/Braceletfew scratchHandlight damage(stain)Dialno damageOthers-CL Number407658 F 180706 a Condition RankBody rankBBelt/Bracelet rankACondition RANK ExplanationN[Mint]Item has never been used.S[Beautiful]Item is like new withvery slight signs of use.A[Excellent]Item has clearly been used,but has no significant scratches or wear.AB[Great]Item has slight surface scratches or slight wear,but looks great.B[Good]Item shows scratches or wear that is visible when worn on wrist.BC[Fair]Item is not in perfect working order or slightly damaged.C[Poor]Item cannot be used as-is.Repair needed or used as parts. International Buyers - Please Note Import duties, taxes, and charges are not included in the item price or shipping cost. These charges are the buyer's responsibility. Please check with your country's customs office to determine what these additional costs will be prior to bidding or buying. Customs fees are normally charged by the shipping company or collected when you pick the item up. These fees are not additional shipping charges. We won't under-value merchandise or mark the item as a gift on customs forms. Doing that is against U.S. and international laws. Shipping We only ship to PayPal registered address. Service: EMS Tracking URL: Please search Japan post. Please Note: We won't under- value merchandise or mark the item as a gift on customs forms. Doing that is against U.S. and international laws. We only ship to PayPal registered address. We do combined ship. Please contact us for quotation. Please contact us if you reside in countries in which we do not specify shipping service and cost. Please be aware that delivery could be delayed depending on customs inspection, in case of natural disasters, and other reasons such as postal strikes. When the customer cannot have payment in pay pal within three days after an order, I open the case to cancel. When there were defects in a clock, we cannot pay repair charges even if a buyer repairs it. When movement has a problem, please contact us. I accept the return of the product if I contact me within one week after a product arrived. Payment We only Accept PayPal. The item will be shipped within 2 business day after the payment is received. If payment can't be confirmed within 3 days after the close of the auction, a reminder will be sent to you. About Us CLOSER was established in 2005. we have results that I sold of tens of thousands of by Internet sale of Japan.Over the last 8 years, We have come to pride ourselves in the Quality of Wristwatches we offer. Our attention is focused on the fine details of quality timepieces like Rolex,Corum,Hublot,Omega,Cartier etc... with safe, prompt delivery to Our Customers worldwide. Sunday may not be able to reply to the messages. (Tokyo time). Others If you have any problem, please contact us. Your satisfaction is important to us. About Authenticity All our items are 100% authentic. They have been inspected by brand specialists. As every seller dealing with pre-owned branded items in Japan we have as well license from local government to offer services of this kind. We are officially registered as legal business and we have to comply with all rules and regulations including tax requirements from the Japanese government.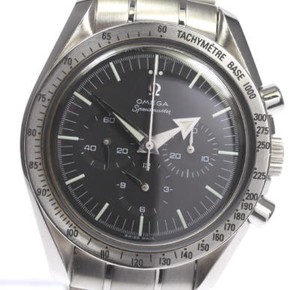 Click Here to View and Report this item
fakewatchbusta recommends never buying anything from a seller who is caught selling Items Bearing Counterfeit Trademarks. Who knows what other Counterfeit items they are selling...
eBay takes a proactive approach to protecting its members when it is notified that an Item Bearing a Counterfeit Trademark has been listed on eBay. This article is for educational purposes. fakewatchbusta has taken the lead in educating the public about the Illegality of trafficking in watches Bearing Counterfeit Trademarks while simultaneously exposing the Criminals who are selling these Illegal watches... with the hope of benefiting the legitimate watch industry, disrupting the illegal counterfeit watch industry, and protecting consumers.
Register on fakewatchbusta.com to report a suspected fake watch. If you feel that an item has been listed by mistake, text or whatsapp 720.899.2554, and we will look into it further.
This watch is Illegal. Trademark Counterfeiting is a serious Crime in most States; a Federal Felony; a serious Crime in most other Countries; and a Violation of the Lanham Act. Report this item on eBay. Report this Counterfeit Watch to local Police, the FBI, IP Attorneys, and to report the watch to the brand that is being Victimized by this Trademark Counterfeiting. Be sure to notify the seller via eBay messaging that you have reported the item and that the item is the subject of an article on fakewatchbusta.com and that we are discussing it in the fakewatchbusta.com forum. Notification that the item is Counterfeit and that it is posted on fakewatchbusta.com is oftentimes enough motivation for a seller to end a listing -- thus protecting the watch industry and potential Victims.
Click Here to View and Report this item