You are bidding on a lot of 3 Mens Seiko watches 2 are presentation 1 QUARTZ with leather band LOCAL 411 model 2620-5609 installed new battery runs works good has heavy scratches to backside case cover and some to crystal a SQ Model 4336-8089 ss with band WORLD SENIORS INTERNATIONAL runs works good has heavy scratches to crystal and to band a Mens Seiko Kinetic WR 100M a few scratches to crystal has band ss 5M62-0820 does run stops for parts or repair all a wonderful addition to anyones collection PLEASE EMAIL ME WITH ANY ADDITIONAL PICTURES OR QUESTIONS NEEDED BUYER TO PAY $4.00 FIRST CLASS MAIL WITH TRACKING NUMBER INCLUDED US ONLY IF WINNING BIDDER LIVES IN WASHINGTON STATE SALES TAX WILL BE ADDED PLEASE WAIT FOR MY INVOICE AS SALES TAX IS ADDED ACCORDING TO WHAT CITY YOU LIVE IN WASHINGTON STATE I EXPECT PAYMENT WITHIN 3 DAYS PREFER 24 TO 48 HOURS I DO COMBINE SHIPPING UP TO 3 DAYS AND EXPECT PAYMENT WHEN SEND COMBINED EBAY INVOICE AND EXPECT PAYMENT ON 3RD DAY HAPPY BIDDING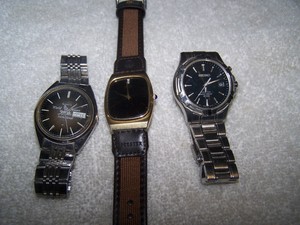 Click Here to View and Report this item
fakewatchbusta recommends never buying anything from a seller who is caught selling Items Bearing Counterfeit Trademarks. Who knows what other Counterfeit items they are selling...
eBay takes a proactive approach to protecting its members when it is notified that an Item Bearing a Counterfeit Trademark has been listed on eBay. This article is for educational purposes. fakewatchbusta has taken the lead in educating the public about the Illegality of trafficking in watches Bearing Counterfeit Trademarks while simultaneously exposing the Criminals who are selling these Illegal watches... with the hope of benefiting the legitimate watch industry, disrupting the illegal counterfeit watch industry, and protecting consumers.
Register on fakewatchbusta.com to report a suspected fake watch. If you feel that an item has been listed by mistake, text or whatsapp 720.899.2554, and we will look into it further.
This watch is Illegal. Trademark Counterfeiting is a serious Crime in most States; a Federal Felony; a serious Crime in most other Countries; and a Violation of the Lanham Act. Report this item on eBay. Report this Counterfeit Watch to local Police, the FBI, IP Attorneys, and to report the watch to the brand that is being Victimized by this Trademark Counterfeiting. Be sure to notify the seller via eBay messaging that you have reported the item and that the item is the subject of an article on fakewatchbusta.com and that we are discussing it in the fakewatchbusta.com forum. Notification that the item is Counterfeit and that it is posted on fakewatchbusta.com is oftentimes enough motivation for a seller to end a listing -- thus protecting the watch industry and potential Victims.
Click Here to View and Report this item